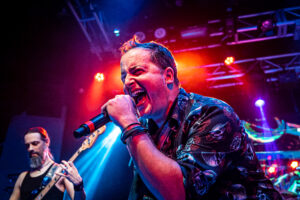 Brian is a multi-instrumentalist and gravitated towards playing the bass throughout his career. Playing bass and singing back up in several bands made Brian realize that he loved singing, and that he had an affinity for this part of his musical experience. After a few opportunities in other Philadelphia-based bands, Brian switched to lead vocals full time in 2019 when Lounge Fly was assembled. Channeling his inner Weiland is one of Brian's real joys, and he is meticulous in his desire to entertain the crowd just like Scott once did!
Ira has been playing on the Philadelphia/South Jersey music scene for years, and cut his teeth playing the vibrant hair metal scene of the late 80's and early 90's. After spending time performing in California and Atlanta in the 90's/2000's, he returned to his hometown area. Ira got together with some old friends (and new ones) and created Lounge Fly to honor the legacy of his favorite 90's rock band. Ira is known as one of the most powerful drummers in the area, and is always fun to watch as he methodically bashes his way through a killer set of STP tunes.
Rich has been playing bass since he was young and has been influenced by some of the greatest progressive and hard rock players of all time. Rich has been involved in, and toured the country with, several highly thought-of original bands throughout his career. In addition, Rich is a solo artist that writes and records music, often times playing most, if not all, of the instruments for his original projects. The rock of the early 90's really impacted Rich's formative experiences, so getting to recreate the music of Stone Temple Pilots is a real joy for him.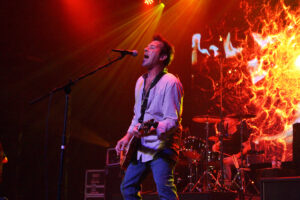 Scott is a seasoned veteran of the Philadelphia area music scene and has been delighting fans since he was young. Having played in many popular and well-respected bands throughout his career, Scott is known as a high-energy performer and top-notch musician. Scott has also had the opportunity to play with some of the most well-respected musicians both regionally and nationally. Channeling his inner Jimmy Page, Scott's raw, refined, and powerful guitar playing is perfect for really bringing Dean to life on stage.